Posted on May 14, 2012, 6:33pm
I can still remember the first time I joined photojournalism (Press Conference) in our school. I'm in my last year in highschool and I was a photography enthusiast
that time even I don't still have a camera
. Thanks to my classmate Julie Ann, who handed me her cute violet film camera, which others thought it was just a little toy, cause it really looks like one. In the said photojournalism contest, I won sixth (6th) place (English category) among the 200+ students
. I don't still have a cam, but in the near future, I'll gonna have my own.
Thanks to this man who invented the first ever camera/photography.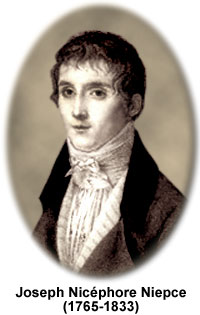 Image from: micro.magnet.fsu.edu
The man who invented photography was
Nicephore Niepce
, a Frenchman who, in 1811, began to try to find a way to reproduce his son's drawings. He applied himself to solving this problem and conducted countless experiments. In 1816 he obtained his first image on paper that he had saturated with silver chloride, but the image was retained for only a brief time. In 1826, he achieved his first true photograph on a light sensitive plate. The image which Niepce had awaited for so long only became visible after eight hours of exposure.
So if you love photography, put this in your sidebar and tell the world how you so love photography. Don't remove the link.